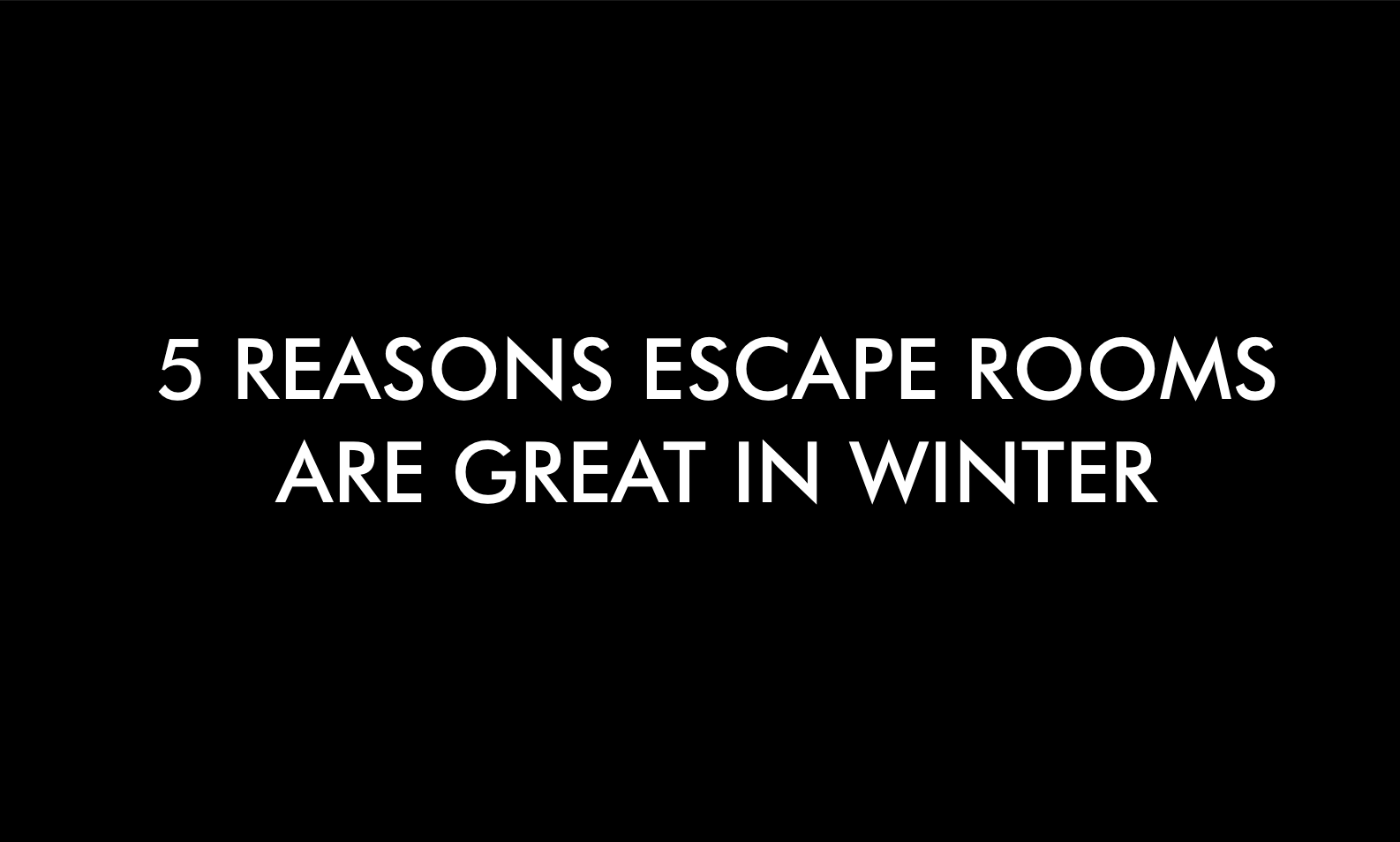 5 Reasons Escape Rooms Are Great in Winter

Christmas has been and gone and Winter has most definitely arrived. We've nearly made it through January, but there's still a whole load of Winter on the horizon before we get to the fresh pastures of Spring. It's not all doom and gloom though, because escape rooms are a fantastic Winter activity! 
In this article, we're going to take you over the top 5 reasons why escape rooms are great in Winter. So if you're looking for an escape room in London, or maybe you're just looking for things to do in London, AIM Escape has got you covered! With four different themed games available, each with multiple rooms within them, AIM offers players an immersive escape room experience in Central London. Whether you're looking for family escape rooms, escape rooms for couples or escape rooms for team building events, AIM has it all! 
It's Warm and Indoors

Amazing Group Activity

Perfect For Dates

You Can Play Multiple Games In a Day

You'll Have Great Stories To Tell
It's Warm & Indoors

Let's face it, no-one likes the cold and if you do, then you're wrong…
All of our escape rooms are climate controlled to stay at the perfect temperature and this means that you can escape from the cold whilst escaping from a room! Finding something to do in London for a date, or a family day out, or a party with friends can be tough in the winter and it really limits your options once all of the outdoor activities are off the cards. This is where escape rooms come into play... 
 
It's An Amazing Group Activity
Getting all of your friends together in Winter can be tough, but escape rooms give you a great excuse to gather your friends for a day of adventure. If you're anything like us, the chances are that it takes something pretty amazing to get you out of the house on a cold, wintery day, but we'd like to think that our escape rooms in London are something pretty amazing! Each of our fully immersive games have been designed with style and substance in mind. Our intention when designing and building the games was that if someone woke up in one of our rooms, they would truly believe their surroundings. Come and see if we succeeded in that! 
It's Perfect For Dates
Planning a date during the Winter months can be a nightmare. You can't go to one of the many beautiful parks in London, there's no walking around Little Venice and there's only so many times you can go to the cinema. For this reason, escape rooms are the perfect date activity! Whether it's a first date, last date, friend date or a blind date, escape rooms have got everything you need. 
If you're not sure about someone, escape rooms put you into a closed off space together for an hour, so you're certainly going to find out whether you really like them!
 
You Can Play Multiple Games In One Day
We've got four different escape games available to play at our escape rooms in Aldgate East and this means that you can spend an entire day escaping. With each room lasting up to an hour, these cold days are going to fly by while you're immersed in a Psychopath's Den or sent forward into the future to stop a deadly virus from escaping the lab in Patient Zero 2150.
 
You'll Have Great Stories To Tell

People tend not to do as much during the Winter months and this can often mean that they don't have as many great stories to tell. There's no summer romances, no beach trips, no romantic walks along The Thames and there's certainly only so much we can hear about work! Escape rooms will certainly give you something to talk about and we'd highly recommend our Hangover Deja Brew room if you're looking for some hilarious stories to tell your friends. This one-of-a-kind escape room in the UK is strictly for over 18s and you'll see why once you're inside!
If you'd like to book one of fantastically immersive escape rooms in London, then head over to our booking page now!
Happy Escaping...