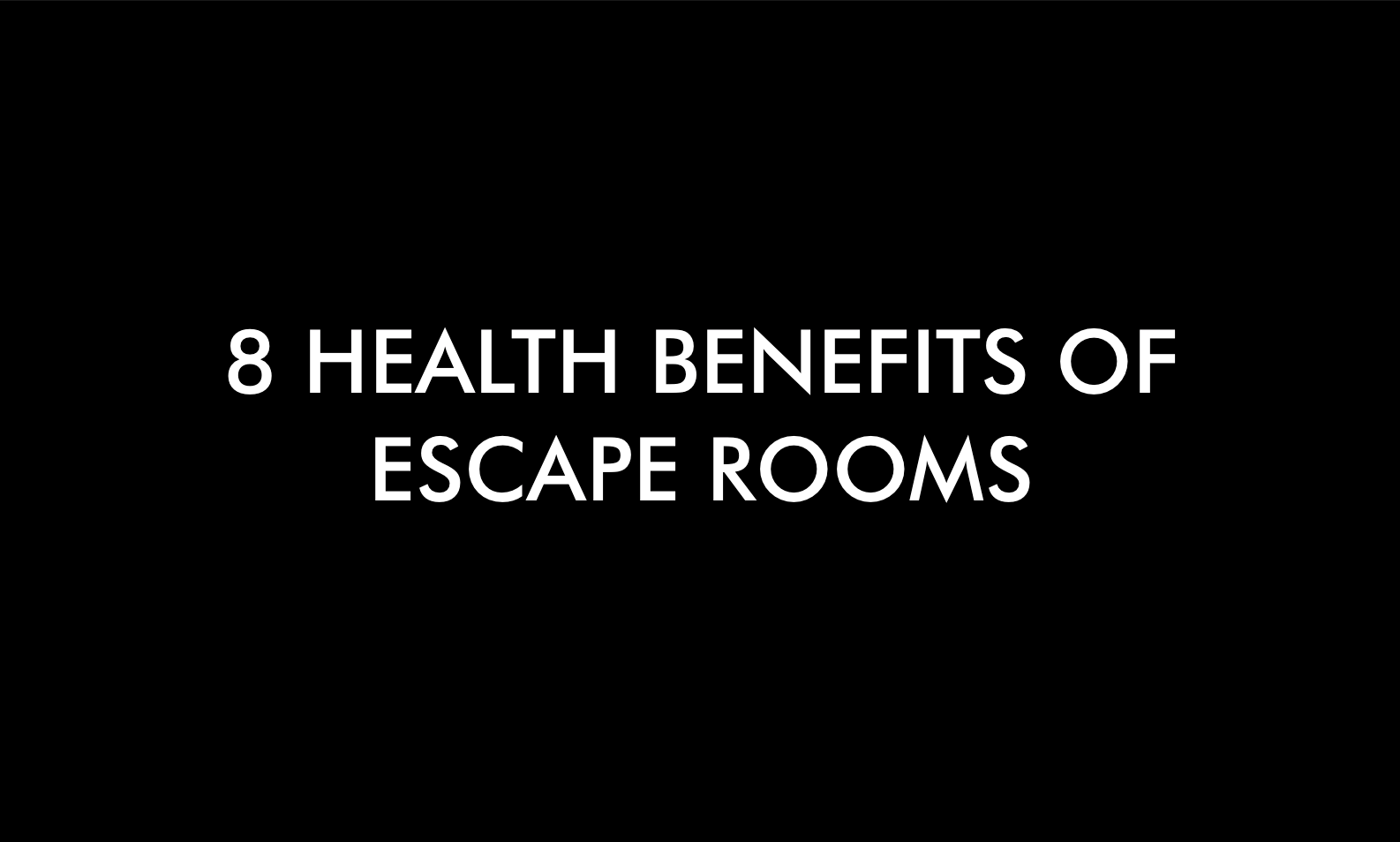 8 Health Benefits of Escape Rooms
The popularity of escape rooms has grown massively since the first live escape game was opened in Japan in 2007. Although it took a little while for the craze to spread across to Western Europe, the UK has fast become one of the top destinations in the world for escape rooms. Figures currently put the number of escape rooms in the UK at over 1500 and with new rooms opening every month, the escape room craze shows no signs of abating. 
Here at AIM Escape Rooms in London, we are on a mission to bring players the most immersive and exciting escape room experience found anywhere in the UK.
If you've never done an escape room before, you may be asking, "What's all the fuss about?". Well, let me tell you! Escape rooms are a great entertainment activity, allowing players to be transported into movie like scenarios in which they are required to solve puzzles and complete physical challenges to escape. Not only are escape rooms fun, they also help to improve your communication and problem solving skills. And if that wasn't enough, escape rooms have also been shown to have a number of fantastic health benefits. Yes, you read that right, THERE ARE HEALTH BENEFITS TO PLAYING ESCAPE ROOMS! 
In this article, we are going to be taking you through 8 health benefits of escape rooms, starting with;
1. Escape rooms can help develop your fine motor skills
Your fine motor skills cover things such as hand-eye coordination and spatial awareness and escape rooms have been shown to improve these skills. From birth, our knowledge and awareness of the world around us grows every day and certain things can help this grow quicker. It has been shown that escape room puzzles can help improve these fine motor skills more rapidly. 
2. Escape rooms can improve communication and social skills
Escape rooms force you to work together and this means communication is key! You will really struggle in an escape room if you don't know how to communicate well with your team and this is why escape rooms are such a popular team building activity. They put players in a situation where they must communicate and problem solve by working together. 
3. Escape rooms can improve your mood
Escape rooms have been shown to increase the amount of dopamine released into the brain. Completing challenges and solving puzzles causes these small releases of dopamine and in turn this helps you feel energised and less fatigued. 
4. Escape rooms can improve your gross motor skills
Gross motor skills cover things such as balance, jumping and walking and escape rooms have been shown to improve these skills. Obviously not every escape room has puzzles that require physical activity, but the ones that do have been shown to improve these skills. Our Spy Heroes room at AIM Escape Rooms in London features a full laser maze which requires players to duck and weave over a whole room full of lasers and this will definitely improve your gross motor skills! 
5. Escape rooms can give you your recommended amount of physical exercise
It is recommended that you do at least 30-minutes of moderate to intensive exercise every day and an escape room doubles this! If you're doing an escape room properly, the chances are that you'll be darting around, exploring high and low and keeping your heart rate up for extended periods of time. This means that escape rooms are great for keeping you healthy. 
6. Escape rooms can help improve your memory and increase capacity
Puzzles, riddles and challenges are a great way to improve your memory and in a similar way to doing brain training exercises or sudoku, escape rooms give your brain a great workout. The sorts of puzzles used in escape rooms with symbols, language and codes have been shown to be particularly good at improving memory skills. A lot of escape rooms require memory retention, with players having to recall something which they have seen, or interacted with earlier in the game and this has been shown to increase your memory capacity. 

 
7. Escape rooms can help you learn new things


This one is very simple- escape rooms can help you learn a whole host of new knowledge and skills and these things can be transferable into real world situations. Escape rooms plunge players into an immersive and interactive environment and this has been shown to improve learning capacity. 

 
8. Escape rooms can help to relieve stress

Those same mechanisms that release dopamine into your brain and help to improve your mood also do wonders for stress relief. Escape rooms are a great way to, well, escape from it all for an hour. Once you're in an escape room, you are transported to an immersive world and you can leave behind all of your everyday stresses and struggles. 


As you can see, escape rooms can genuinely be good for you and we're not just saying that because we're an escape room! If you're looking to take advantage of some of these health benefits and want to experience the most immersive escape room in London, then book in your next adventure at AIM Escape now!