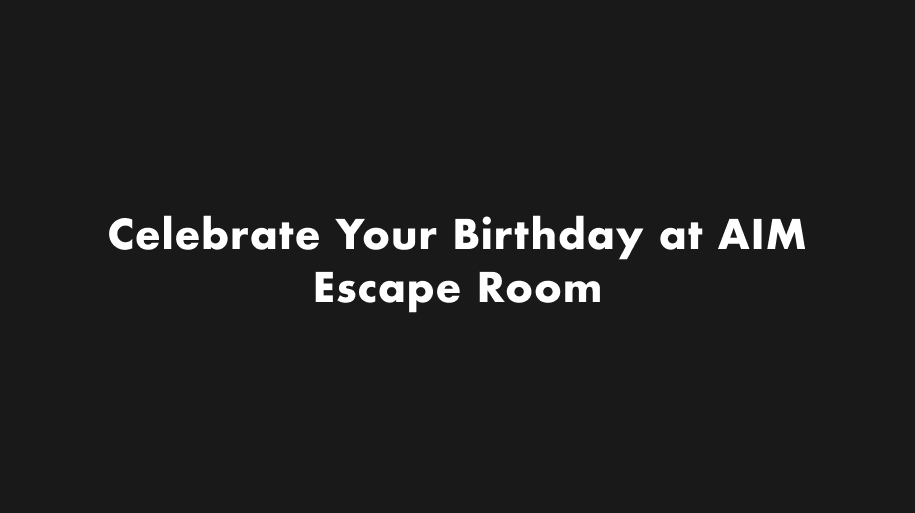 Celebrate Your Birthday at AIM Escape Rooms
Looking for a unique and exciting way to celebrate your birthday? Look no further than AIM Escape Rooms! Our immersive and challenging games are the perfect way to gather a group of friends and put your problem-solving skills to the test. Located in the heart of London, our escape rooms offer a variety of themes and levels of difficulty to suit all interests.

Top Birthday Rooms To Celebrate Your Birthday At AIM Escape Rooms
Here are some of the top escape rooms we offer:
Psychopath's Den - In this thrilling game, you and your friends will find yourselves locked in the lair of a notorious psychopath. Can you escape before he returns?
Spy Heroes - Inspired by James Bond, this game will transport you and your friends to a world of espionage and intrigue. Can you complete your mission and save the world?
Hangover Déjà Brew - You and your friends wake up in a strange hotel room with no memory of the previous night. Can you piece together what happened and escape before time runs out?
Patient Zero 2150 - In this post-apocalyptic game, you and your friends must navigate a world ravaged by a deadly virus. Can you find the cure before it's too late?
At AIM Escape Rooms, we offer a variety of games that are perfect for groups of all sizes. We can even accommodate private bookings for a more exclusive experience. Our games are designed to be immersive and engaging, with intricate puzzles and exciting storylines.
Book Your Birthday Escape Room Now
Booking an escape room at AIM Escape Rooms is easy. Simply visit our website and select the game you'd like to play. We offer a range of time slots to choose from, and our friendly staff is always on hand to help you with any questions.
So what are you waiting for?
Book your birthday celebration
at AIM Escape Rooms today and prepare for an unforgettable experience!