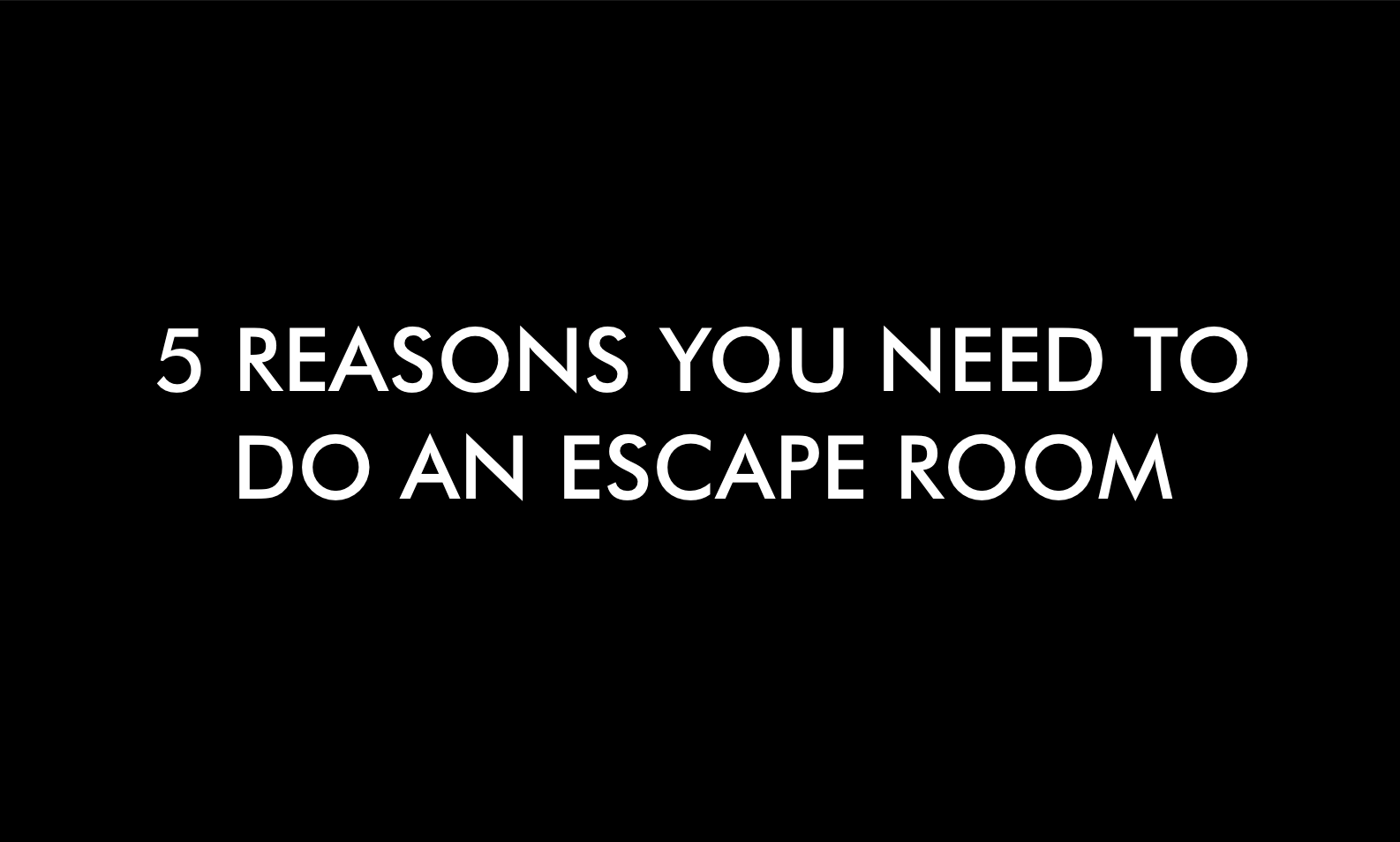 5 Reasons You Need To Do An Escape Room
When someone asks what you do and you say that you work in an escape room, two of the most common responses that you get are, "What is that?" or "I've heard about them, but I've never actually done one". My response to this is usually, "You should do one, they're great!".
Escape rooms are fast becoming one of the most popular entertainment activities for people of all ages and if you're looking for an escape room in London, then look no further than AIM Escape!
In this article, I'm going to take you through the 5 reasons why you need to play an escape room.  
1) Anyone Can Play
People will often think that they are not smart enough, or they're too old/young for escape games, but that is simply not the case. There are escape rooms out there for everyone, covering pretty much every single genre, theme and movie setting that you could think of. Whether you are interested in Horror, World War II, Egyptians, Pirates, Mods, Rockers, Sports, Zombies or just about anything you can think of, escape rooms have got you covered.
Escape rooms aren't necessarily about being smart or intelligent and you could have the highest IQ in the world and still struggle in an escape room. Every escape room team needs different sorts of players and you can read all about our
Tips for Building the Perfect Escape Room Team here
. Even if you don't think you're the sharpest knife in the drawer, you will probably surprise yourself with just how useful you can be. Our games masters are watching and listening the whole time as well, so you will never be stuck for too long as they will be able to give you a nudge in the right direction!
Another great thing is that the whole family can play too! Our escape rooms in Central London can be played by players aged 6 and up.

2) A New Source of Entertainment
If you're stuck in a rut and don't know what to do this weekend, then an escape room could be the perfect choice. Why sit on the sofa and watch a movie when you can be in the movie!? In an escape room, you are the protagonist and it's you making the choices. Our escape rooms have been designed to be totally immersive, transporting you into a completely different world.  
3) It's Actually Good for You
Yes, escape rooms do actually have some great health benefits! Escape rooms have been shown to increase both fine motor skills and gross motor skills by improving things like hand eye co-ordination and spatial awareness. Escape rooms have also been shown to improve memory capacity, recall and retention by giving your brain a great work out in a fun environment.
Who'd have thought that escape rooms could be so good for you, eh??  
4) Escape Rooms Are Like Real Life Video Games
If you're a big video game fan, then escape rooms are about as close as you can get to being in your own video game. If you've always wanted to be the one saving the world, finding the precious gems or rescuing a stranded team, then escape rooms are perfect for you. In an escape room you are plunged into an immersive world where success and failure will be on your shoulders. Do you have what it takes to be victorious? Find out now!  
5) You'll Never Run Out of Themes
There are so many different escape room themes out there that you will never run out! Here at AIM Escape, we have four different themed rooms, with a horror room, Psychopath's Den, a futuristic sci-fi room in Patient Zero 2150, a spy thriller in Spy Heroes and an 18+ comedy room in Hangover Deja Brew. That is just at our escape room in London though and there are so many different themes available to play around the world that you will never get bored! Each escape room brings a new scenario with different puzzles to keep you entertained forever…
If you're looking to book a great escape room in Central London,
then head over to our bookings page now!