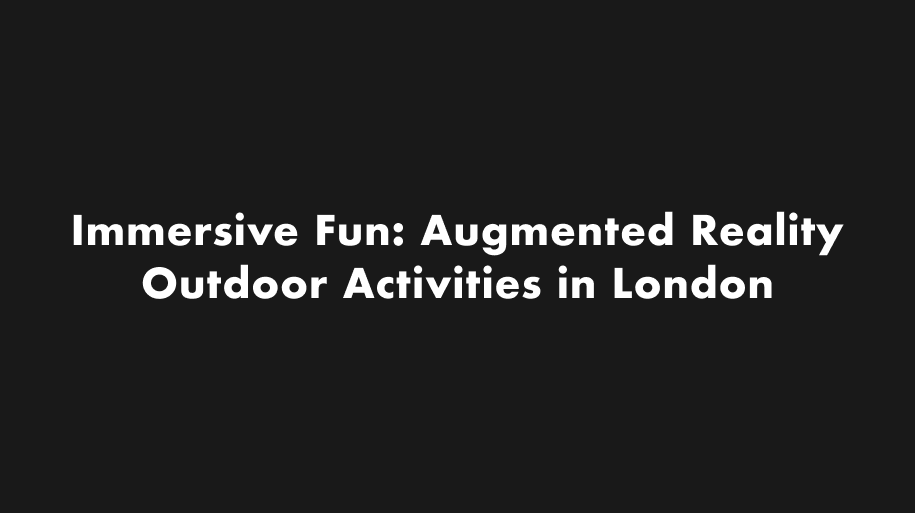 Discover London in a New Way with Augmented Reality Outdoor Activities
London is a city known for its rich history and iconic landmarks, but what if you could explore it in a new and exciting way? Enter augmented reality outdoor activities, a thrilling experience that combines real-world exploration with the latest technology. AIM Escape Rooms' Augmented Reality Outdoor City Experience offers just that - a chance to immerse yourself in the beauty of London while having fun with your friends or family.
How AIM Escape Rooms' Augmented Reality Experience Works
The concept of augmented reality may sound complex, but it is simply the integration of digital elements into the real world. In this case, AIM Escape Rooms' outdoor activities are designed to bring the city's landmarks to life through the use of interactive puzzles and challenges. Using a smartphone or tablet, participants are guided through the streets to uncover clues and solve riddles, all while enjoying the fresh air and scenery.
Fun for Everyone: Suitable for All Ages and Skill Levels
One of the best things about these outdoor activities is that they are suitable for people of all ages and skill levels. Whether you're a seasoned adventurer or a newbie to augmented reality, there's something for everyone. The challenges are designed to be engaging and challenging, without being overly difficult. Plus, it's a fantastic way to get some exercise and explore London's hidden gems in a unique way.
Combining Education and Entertainment with Augmented Reality Activities
In addition to being fun and exciting, augmented reality outdoor activities also have educational benefits. Participants will learn about the history and culture of London as they solve puzzles related to the city's landmarks. This makes it an excellent activity for school groups or families who want to combine learning with outdoor fun.
The Popular Scavenger Hunt Game: Uncovering Hidden Treasures in London
One of the most popular outdoor activities offered by AIM Escape Rooms is the scavenger hunt game. This exciting experience takes participants on a journey through the city to uncover hidden treasures and solve puzzles. With a range of challenges that include augmented reality, puzzles, and riddles, participants will need to use their creativity and problem-solving skills to succeed.
Team-Building with a Twist: Augmented Reality Outdoor Activities for Corporate Groups
The augmented reality outdoor activities are also perfect for team-building exercises. Corporate groups can benefit from the challenges that require collaboration and teamwork to solve. It's a great way to foster communication, trust, and cooperation among team members, all while having fun in the outdoors.
Experience London's Beauty and History with AIM Escape Rooms' Outdoor Activities
Overall, AIM Escape Rooms' Augmented Reality Outdoor City Experience is a fantastic way to experience London's beauty and history in a new and exciting way. Whether you're looking for a fun day out with friends or family, or a unique team-building activity, these outdoor activities are sure to deliver an unforgettable experience.