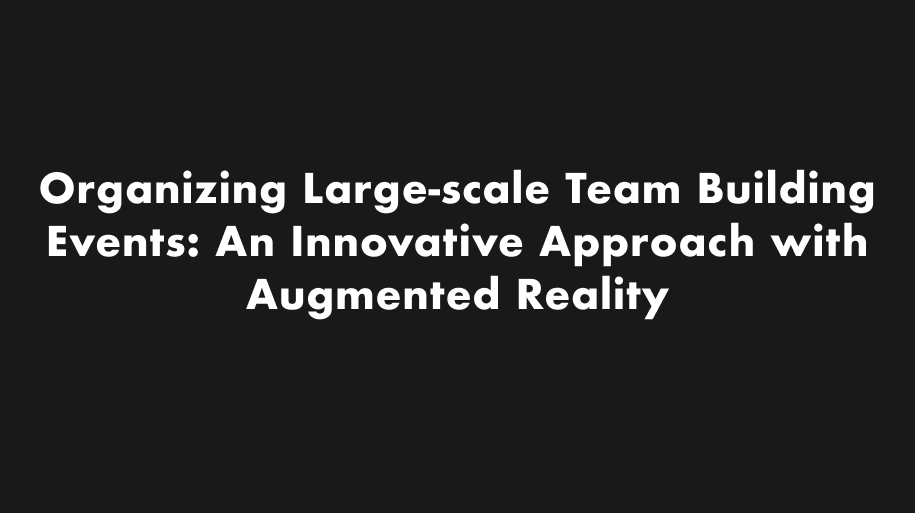 Organizing Large-scale Team Building Events: An Innovative Approach with Augmented Reality
In the world of business, the term "team building" isn't just a buzzword. It is an essential practice for any company aiming to foster a cohesive, productive, and positive work environment. However, when you're dealing with a large group of 60+ employees, planning effective team building days can pose a considerable challenge. This blog post is designed to guide you through the process of organizing a successful large-scale team building activity, featuring an immersive Augmented Reality (AR) Outdoor City Experience by AimEscape, capable of supporting up to 100 participants.
1. Understanding the Concept of Teambuilding and Its Importance
Building a team isn't about grouping people together and expecting them to perform. It involves developing a bond among individuals to create a unified force that can tackle tasks collaboratively and efficiently. Team bonding activities and games play a vital role in this process. These activities are not just fun team building pastimes, but are strategic moves designed to foster positive communication, improve problem-solving skills, and boost morale among team members.
2. Planning the Event: Step-by-Step
Planning a corporate team building day for a large group can seem like a daunting task. But it doesn't have to be. Follow these steps to ensure a smooth and successful event:
Step 1: Set Clear Objectives Understand what you want to achieve through your team building activities. Are you focusing on improving communication, fostering creativity, promoting problem-solving skills, or simply providing an avenue for fun and relaxation?
2: Choose an Appropriate Venue The venue should be spacious and accommodate everyone comfortably. If you are considering an outdoor team building day, London offers many great locations. Additionally, check the available team building activities near me.
3: Schedule the Activities Team building activities for adults should be scheduled strategically throughout the day. Don't forget to include breaks and meal times.
4: Divide into Groups For larger teams, breaking into smaller groups helps facilitate more meaningful interactions. This also allows for team building activities for small groups.
5: Plan a Detailed Agenda Outline a clear team away day agenda. This gives the participants an overview of what to expect during the team building day.
3. Augmented Reality Outdoor City Experience: The Ultimate Teambuilding Game
Here at AimEscape, we offer a unique team building activity that combines technology, creativity, and fun. Our AR Outdoor City Experience is a thrilling outdoor team building game that transforms the city into an immersive escape room team building playground.
How It Works Participants, divided into teams, are given an iPad loaded with our specially developed app. This app guides teams around the city, leading them to various landmarks where they solve puzzles and complete challenges in augmented reality. It's an innovative fusion of a traditional escape room and a city treasure hunt.
Our AR game can support groups of up to 100 people, making it perfect for large-scale corporate team building activities. The combination of fun challenges, iconic locations, and the use of cutting-edge AR technology makes it one of the best team building activities in London.
4. Customizing Your Experience
Our AR Outdoor City Experience can be tailored to suit your team's specific needs and goals. Whether you're looking for team bonding ideas that promote problem-solving skills, creativity, or just a fun day out, we can customize our game to meet your objectives.

In conclusion, organizing a team building event for large groups doesn't have to be overwhelming. With the right planning and a creative approach, you can host a successful team building day. Aim Escape's AR Outdoor City Experience provides an innovative and enjoyable solution that not only brings your team together but also helps them develop essential skills in a fun, engaging environment. Book now!