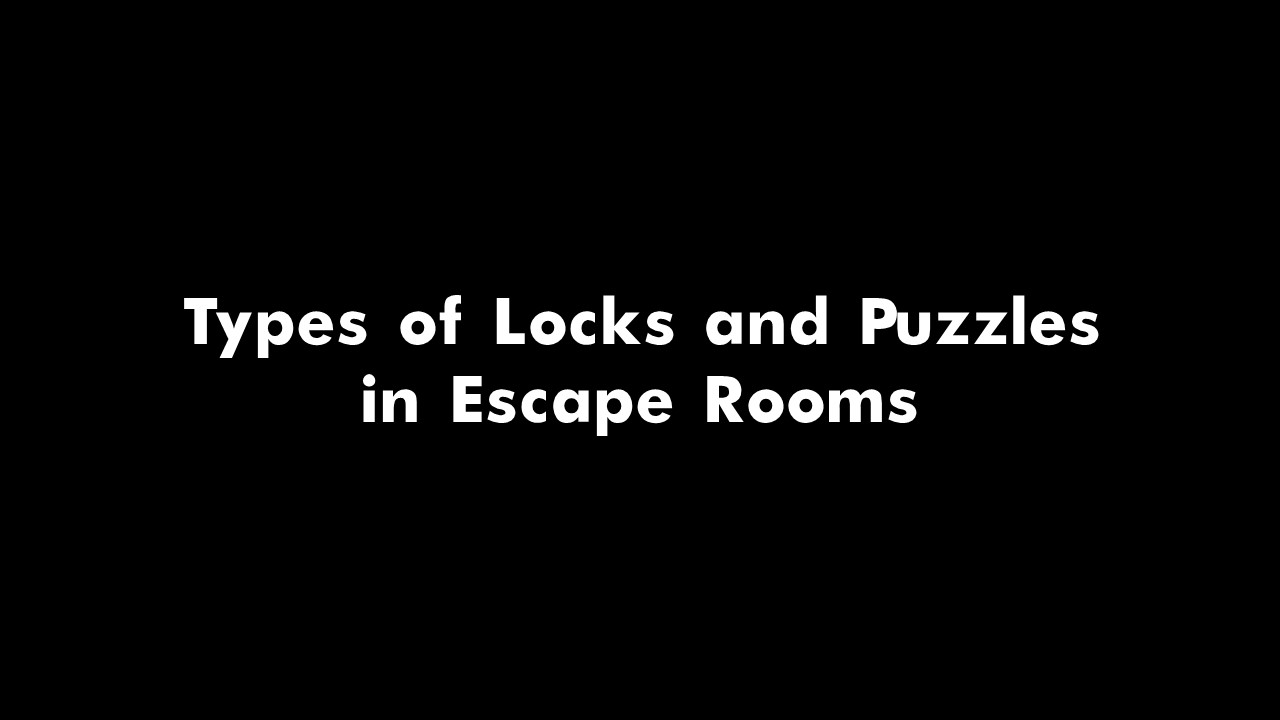 Types of Locks and Puzzles In Escape Rooms
Escape rooms are full of different types of locks and puzzles and different people excel at different ones. Here at AIM Escape Room London, two of our games feature locks and keys, whilst two of them don't feature any and rely more on high-tech puzzles and gadgets. This means that if you like the traditional style of lock and key escape rooms, you should try Psychopath's Den and Hangover Deja Brew, whereas if you're looking for something a bit different, you should try Patient Zero 2150 or Spy Heroes.
In this article, we're going to take a look at the most common types of locks and puzzles found in escape rooms.
Key Padlocks
The one that you will encounter most often when playing escape rooms is the tried and tested key and padlock. The key will usually either be hidden somewhere, or you will have to solve a puzzle to access the key before you can use it on a padlock. Escape rooms typically only require you to use each key once, so when you have used each key, it is a smart idea to leave them in the lock so you don't find it again later and spend time trying it in other places in the room.
Numerical Locks
Numerical locks are commonly found on padlocks, where you have to find a series of different numbers from clues around the escape room so that you get the combination for the lock. Here at our escape rooms in London, we also have a number of numerical keypad locks. These allow for longer strings of numbers being needed to make puzzles a little tougher!
Directional Locks
Directional locks are also found in escape rooms and can be a little controversial at times. A lot of people don't like them because they can be quite tricky to operate. You will usually solve a puzzle that gives you a combination of Up/Down/Left/Right or North/South/East/West and then you will have to input this onto the lock. 
The slightly difficult/annoying part is resetting the padlock though. The codes that you find can be different lengths and it is hard to tell whether the lock has been reset just by looking at it. A lot of people think they have reset it, but they haven't done it properly so they can never get the correct code. To reset these types of locks, you must push the body of the lock up into the metal (at least) twice in order to reset it before trying a new combination. 
Logic
Logic puzzles are usually the most common types of puzzles found in escape rooms. These puzzles don't require any sort of physical activity and instead require the player to use their brain to work things out or fill in the gaps. Challenges that are logic-based in escape rooms often are used in combination with various types of locks, because most of these puzzles yield codes.
Physical
You don't usually see too many physical challenges in escape rooms as it can end going a bit more towards the Crystal Maze style of activity rather than a true escape room. We do have a laser maze in one of our escape rooms in London and players of all ages love the experience in Spy Heroes. Physical puzzles usually don't require every member of your team to complete them and this means that if there is anyone on your team who isn't able to or doesn't want to do a physical challenge, they won't need to.
Mechanical
Mechanical puzzles combine elements of logic and physical puzzles and will usually require you to physically manipulate items in the room to move on. This could be something like finding puzzle pieces and putting them together in the right order, or pulling out the correct books on a bookcase. Good mechanical puzzles may not seem as if they are even a puzzle to begin with and this can add a great level of immersion to the room. 
Maths
I'm going to start this one by admitting that maths puzzles are not my forte...A lot of people don't like maths and I am most certainly one of them, but you are likely to find maths puzzles in most escape rooms. A game that is well designed shouldn't require any outside knowledge to complete puzzles, so the actual maths itself should be simple addition, subtraction, division or multiplication, but it is usually hidden in a tricky way. 
Scent
Now this is one that isn't seen too often and one which was also voted as the Least Favourite Type of Puzzles found in escape rooms in 2019. Scent puzzles require you to, yes you guessed it, smell something and guess the scent. These puzzles leave a lot of room for subjectivity and also games master error if too much or too little of the perfume has been placed on the object. 
These are some of the most common types of locks and puzzles found in escape rooms, but if you've got any more that you regularly see, let us know! 
If you're looking for things to do in London, then come and try out our escape rooms in Aldgate East! With four different totally immersive experiences to enjoy, get your thinking cap on and come and try out the best escape room in London!