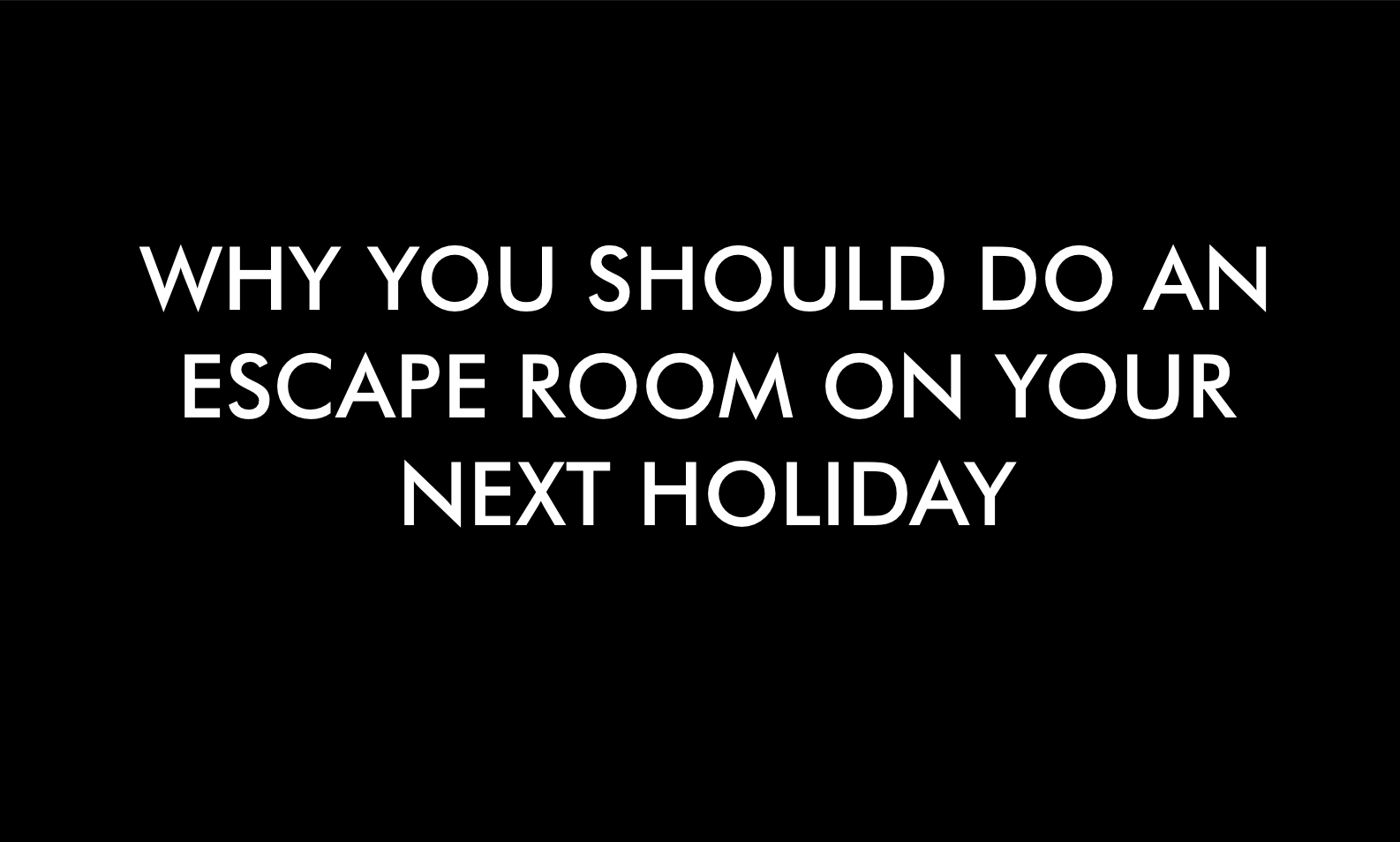 Why You Should Do An Escape Room On Your Next Holiday
Going on holiday and struggling to find something that everyone will enjoy? Trying to navigate yourself around the tourist attractions? Want to try something out of your comfort zone? Well an escape room could just be the answer to all your problems! Here we will outline the reasons why an escape room is the perfect activity for your next holiday. 
It's not weather dependent 
All of our escape rooms here at AIM Escape are indoors and climate controlled, making our escape rooms in London one of the rare holiday activities that you won't be relying on the weather for. If it's beaming sunshine and scorching heat, you can have a break from the hot weather and come cool down inside. Or if it's raining (which is a more likely occurrence in London unfortunately!) then you can come and hideout with us and avoid the wet weather. Come rain or shine an escape room is always a good choice. 
Gives an opportunity to try different types of escape room 
As the escape room trend gets more and more popular, the themes for rooms are just getting even more creative and original. So as you head to a new country or city, why not take the opportunity to experience a kind of escape room they don't have where you are from. An endless number of potential rooms and themes can be created, creating so many different experiences to be had. The possibilities are endless so why not take advantage of that! For example, our Hangover Deja Brew room is a one-of-a-type, being the only escape game of its kind in the UK. 
All of the family can get involved 
It can be hard on holiday to find something that everyone wants to do, particularly when it comes to family, this is where an escape room comes into play. Here at AIM Escape we have escape rooms for everyone to enjoy. Family escape rooms such as Spy Heroes where anyone from age 6 and up can take part, and our Patient Zero 2150 room where anyone over the age of 12 can play to help save the world! The youngest to the oldest members of the family will have something to connect them after taking part in a family escape room. 
Great activity to bond as a couple 
Our escape rooms aren't all family focused, we also have brilliant rooms aimed at adults to come and play. Including our over 18's Hangover Deja Brew room, where the aftermath of a stag do includes a missing groom and no memories of the night before, leaving players to put the pieces of the night back together. Doing an escape room like this on holiday can benefit couples in many different ways. A couples escape room for two is often successful in helping couples to trust in each other and have patience, whilst allowing them to effectively communicate with one another. Finding an escape room for two in London isn't always easy, but all of our games here at AIM Escape have been designed for 2-5 players to enjoy. 
It's a holiday within a holiday 
Motivations for many people when going on holiday are to experience a brand new place and relax from everyday life, so why not go an extra step further and transport, not just to a new place, but into a brand new world! Escape rooms of different themes can take you to almost any place you would want to go. At AIM Escape our fully immersive and hyper realistic rooms will make you completely forget you are in an escape room in London and have you feeling like you really have ended up in a Psychopath's Den..!
It brings people together 
Regardless of who you are on holiday with, whether it be your partner, family or friends, one thing that you can rely on is that an escape room will bring you all together. Escape rooms require good teamwork and interaction as you all work together towards a common goal. You will come out feeling more connected due to this, especially as you have embarked on an adventure together! Additionally, perhaps you are on a solo holiday, then what better way to bond with new friends or meet new people than through an exciting challenge like this one. 
Make lifelong memories
If you do an escape room on holiday, you will find yourself with an extra special memory from the holiday. You won't be returning from your trip just talking about the holiday in general, you will remember plenty about the escape room and the experience you all had there. You may even be encouraged to continue these memories and do many more escape rooms together! 
So the next time you're on holiday don't forget to think of all the benefits that doing a family escape room, escape room for two or with one with friends can have for you all and your trip.

Looking for an escape room in London, then book to play at AIM Escape.