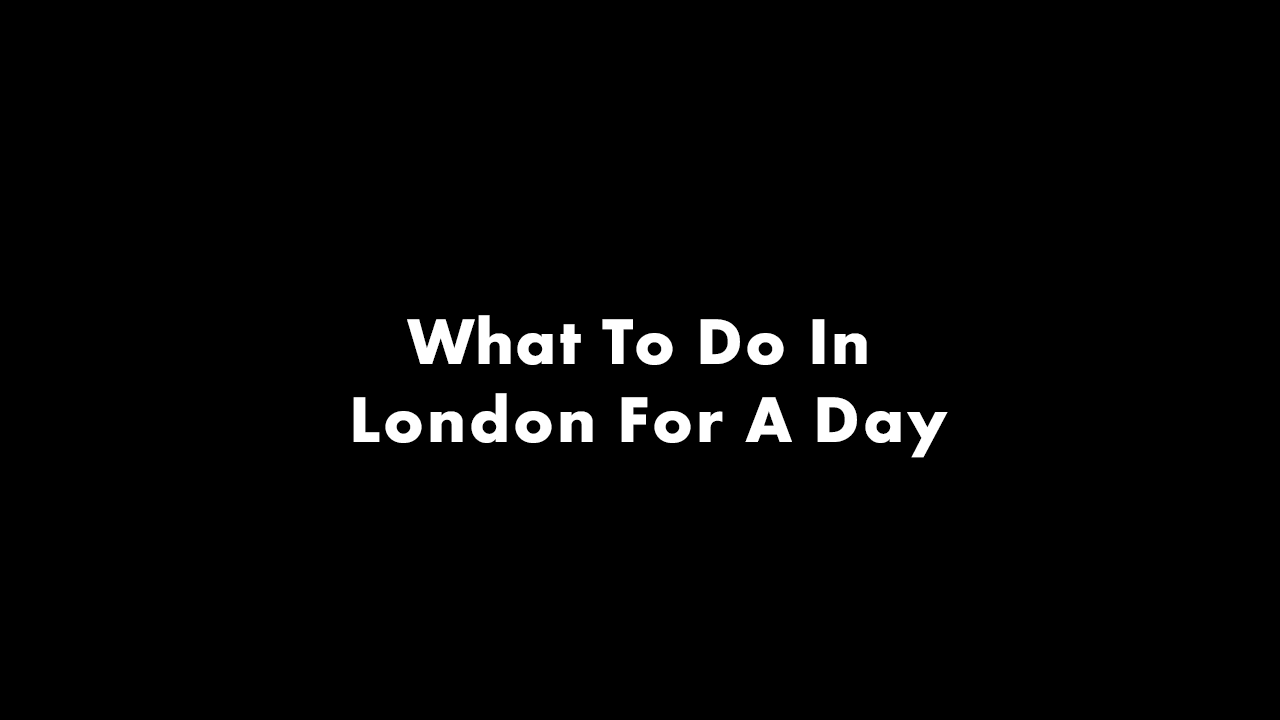 If you've booked a day trip to the capital, you might be wondering what to do in London for a day. As one of the world's major capital cities, you're spoilt for choice. There is a huge range of activities and attractions to visit in the city, and your biggest problem will be what to choose.

So if you're heading to London for a day from elsewhere in the UK or overseas, how can you make the most of your limited time?
 
Getting around
If you've only got a day to spend in London, then getting around as efficiently as possible is all important. Luckily, London has a world class transport system. The tube network is extensive and will get you close to where you want to be. Likewise the buses, but make sure you don't spend too long sitting in London traffic rather than enjoying the sights.

Central London is actually relatively compact and it's a great city in which to walk or perhaps hire a cycle. Some of the top sights in London are located along the River Thames in about a 3-mile radius, others are just a quick tube ride away. If you're compiling a list of what activities to do in London be sure to factor in the time it takes to travel between different locations.
 
See the sights on a 'Hop on Hop Off London Bus Tour
If you only have limited time in the city, then a 'Hop On Hop Off Bus Tour' is a great option. There are a variety of tours available, taking in the classic city sights such as Buckingham Palace, Tower Bridge, the Houses of Parliament, and St Paul's Cathedral allowing you to get off and explore and then re-join the tour later in the day. If you're wondering what to do in London for a day, a bus tour is a great place to start.
 
Breakfast at Covent Garden
Beautiful Covent Garden is always a hive of activity. Popular with tourists and Londoners alike, it's a great place to shop, socialise and while away the hours. If you're in town for a day, then Covent Garden is a great place for a stop-off. There are countless great places to eat, and if you're looking for breakfast or a bottomless brunch to set you up for a day of capital activities, then you can't go far wrong. From friendly cafes to upmarket eateries, you'll find something for your budget.

Covent Garden is where you'll find Apple Market and Neals Yard, two iconic and highly photographed cosy London landmarks. Apple Market is a Victorian market arcade that now bustles with indie retailers, market stalls and boutique shops. It's a great place to find something quirky to take home. Neals Yard and Neal Street are picture perfect little shopping streets where you'll find a wealth of interesting places to shop or eat.

There's more to Covent Garden than just the shops, however. It's also home to the Royal Opera House and the London Transport Museum. Inside, you'll find a fascinating interactive history of the world's oldest underground network, the iconic red bus and the world's first underground steam train.

If transport isn't your thing, don't worry. There's lots to see and do in and around Covent Garden.
 
Tower Of London
The Tower of London is one of the city's major landmarks and attractions. It has a fascinating, often grisly history, and is one of the centres of royal life in the city. It's home to the Crown Jewels, the breath-taking, world-famous collection of 23,578 gemstones at the Tower of London. The jewels are still in use and are kept under armed guard at all times to protect them. They make a truly awe-inspiring and dazzling display.

Also in the Tower you'll find the famous ravens. Legend states that should the ravens leave their home in the Tower it will collapse, and the future of the kingdom will be in jeopardy. Luckily, the six current residents, Jubilee, Harris, Gripp, Erin, Poppy, Georgie, Edgar, and Branwen all seem quite at home.

This centre of historic royal power in the city is must-see.
 
South Bank & The London Eye
The South Bank is a centre for arts and culture in the city. From the BFI to the Southbank Centre, it's a popular spot to walk, dine, take in some culture and enjoy the view of the River Thames.

Also along the South Bank you'll find The London Eye. It's a great way to see the city from its location right in the heart of things. From the Eye you're offered an unparalleled view of some of the city's leading landmarks, including Westminster Abbey and the Houses of Parliament. As well as the great landmarks there's the awe-inspiring city skyline to enjoy, stretching out as far as the eye can see.  The London Eye is the only attraction offering a constantly changing 360-degree perspective of central London.

The South Bank and Waterloo area are also excellent locations to enjoy a relaxed lunch. There's a number of popular traditional London pubs, like The King's Arms and Anchor & Hope that serve food.

Alternatively, why not head to one of the city's great parks for an impromptu picnic lunch?
 
Picnic in St James's Park
London is a green city with a number of large, landscaped parks and gardens across its centre. None is more iconic than St James's Park, right next door to Buckingham Palace, the London residence of the King and Queen Consort.

If you're visiting London during the spring, summer, or early autumn you may be blessed with fine weather. In which case, there's no better place to head for a picnic than St James's Park. This 23-hectare green lung in the heart of the city is an elegant, landscaped oasis in the heart of Royal London.

Buckingham Palace lies to the west, the Mall to the north, Horse Guards to the east and Birdcage Walk to the south. A resident colony of pelicans has been a feature of the park since a Russian ambassador donated them to Charles II in 1664.

The park's location means it's often a focus for Royal and state events with crowds gathering in the park and on the nearby Mall to celebrate and commemorate.
 
A feast for foodies at Borough Market
Borough Market in Southwark has an incredible 1000-year history and still throngs with activity today.

With an array of traditional market stalls, amazing produce from around the world and a huge selection of street food vendors, it's a dream destination for foodies. Split into three main areas, you'll find larger producers and merchants in Three Crown Square.

Green Market is home to small, specialist produce traders and Borough Market Kitchen is set aside for street food. All around the market you'll find a host of restaurants, bars, and shops.

Borough Market is conveniently located right beside the London Bridge rail terminal and London Underground station, meaning this feast for the senses is highly accessible.
 
Join the groundlings at the Globe
Southwark is also the historic home of London's most famous open-air playhouse. The iconic Globe Theatre is a faithful reconstruction of the playhouse in which Shakespeare wrote and for which he wrote many of his most famous plays.

The bard called his theatre a 'wood O' and the reconstructed Globe theatre is a 360° auditorium. You get the chance to experience theatre as it was done in Shakespeare's day by joining the Groundlings, the raucous standing theatregoers who would cheer their approval and disapproval for the performance.

If you haven't got time for a Shakespeare play, then why not enjoy a tour of this iconic building. Learn about the modern building and the history of the theatre. Expert guide-storytellers provide a fascinating 50-minute tour that vividly brings the bygone era of theatre to life.
 
Rub shoulders with the stars at Madame Tussauds
The world-famous waxworks at Madame Tussauds are a source of global curiosity. With more than 190 lifelike figures both on display you can have your photo taken up close with Taylor Swift, King Charles II or Yoda to name but a few. It's a perfect place to spend a fun and quirky afternoon. Madame Tussauds London is located on Marylebone Road in Marylebone, north-west London, and the closest tube stations are Baker Street and Marylebone.
 
Visit the great detective at 221b Baker Street
As the residence of Conan Doyle's great detective, Sherlock Holmes, 221b Baker Street is one of the most famous addresses in fiction. It's now the home of the Sherlock Holmes Museum, where you'll find the world's largest collection of memorabilia connected to the detective. The rooms have been maintained to give visitors an authentic experience of life in Victorian London. This evocative experience is just a short 5-minute walk from Madame Tussauds.
 
Take in a gallery (or two)
London is home to the UK's biggest and best art galleries. Tate Modern is Britain's national museum of modern and contemporary art. The National Portrait Gallery showcases some of the world's finest portraiture. Tate Britain is home to the largest collection of British art in the world, from Turner to Hockney. Smaller galleries to investigate include the Serpentine Galleries, the Hayward Gallery, and Whitechapel Gallery.

Alternatively, you might like to check out some of the amazing public art you can see on the streets of the capital.
 
Take a tour of the street art in Shoreditch
Shoreditch is one of London's coolest neighbourhoods. It's a fast-moving hub of art, culture and creativity and a great place to check out some stunning street art. Old buildings, formerly run-down corners and hidden spots have all been transformed with edgy, colourful and contemporary art that is a feast for the eyes.

Camille Wallala's Dream Come True brings some vivid colour to concrete-heavy Old Street, but there's plenty more to enjoy. To start your Shoreditch self-guided street art tour, head to New Inn Yard to King John Court where you'll find the biggest street art mural both in Shoreditch and the UK. This consists of eight sections in all, each painted by a different pair of artists, and all based around the theme of connectivity.

Alternatively, if you want to get the most out of your Shoreditch visit, then why not join a street art tour to see some of the best examples across the area and to learn something about their history, their inspiration and the artist behind them.
 
Escape The Psychopath's Den!
Escape rooms are big news, and in London you'll find a whole new level of challenge at AIM Escape in E1. From the tense to the threatening and perplexing, your nerves will be shredded and your powers of deduction stretched to the max. The team at AIM Escape have used the latest technology and innovation to create puzzles that both mystify and bamboozle.

Among the range of creative, claustrophobic, and intense challenges you can step into the Psychopath's Den. The instant the door slam shuts you'll know that bad things happen here. The evil is omnipresent, and the terror builds relentlessly.

Amid the gore-caked instruments of torture and blood-spattered walls there's a host of fiendish puzzles to solve. All the while, lurking in the shadows is the psychopath himself, and he's waiting for you to slip up.  Can you escape before you end up another blood-drained victim? Complete with a real crematorium and gallons of O-neg this is the ideal escape room experience for lovers of horror and adrenaline-fuelled frights.

For a truly chilling and memorable experience be sure to book your appointment!
 
A day is rarely enough!
With so much to see and do in London a day is rarely enough. That said, it's still possible to pack lots in, no matter how many hours you have to spend. London is one of the world's great cities and as you head home, you'll likely be planning your next visit before too long.