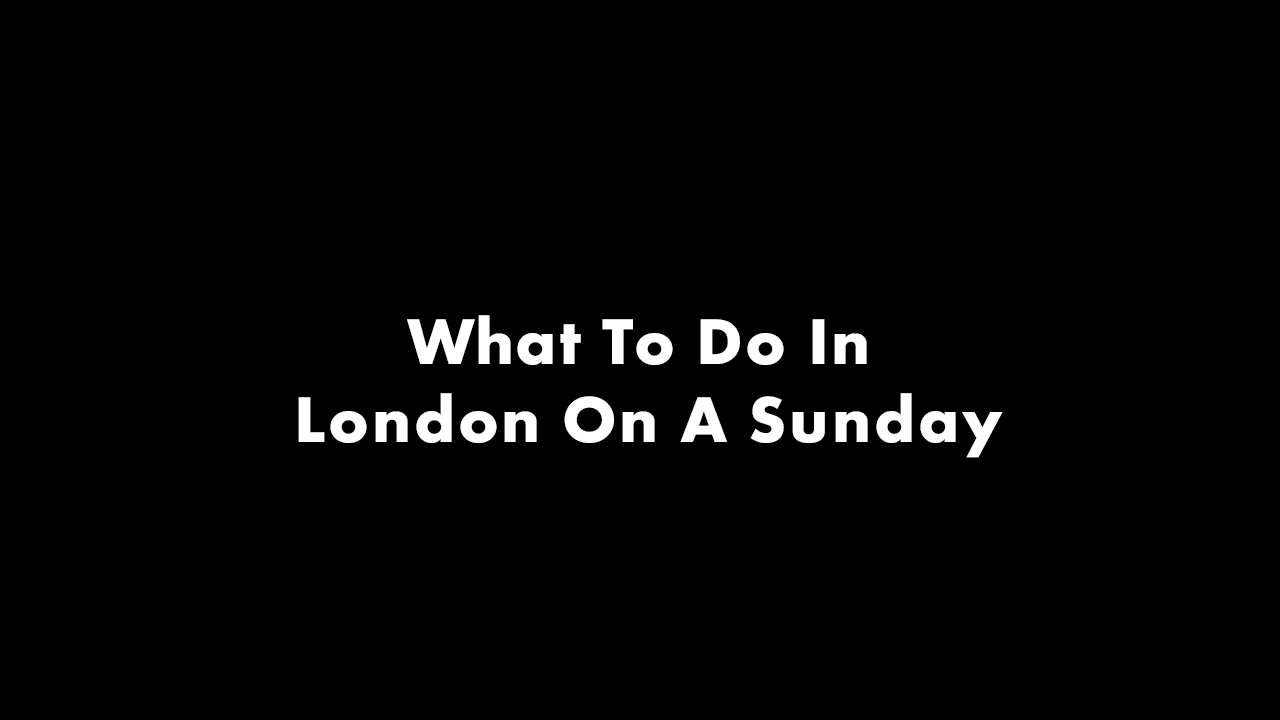 Sunday is a great day to plan a day out in London. The pace in the capital city is a little slower and the crowds are a little smaller, enabling you to take in the sights in a relaxed and unhurried way.

Typically, many smaller museums, galleries and other attractions will remain closed on a Sunday, and the shops that are open will operate over shorter hours. So if you're travelling to the city with a particular attraction in mind, it's always a good idea to check the website. That said, most tourism geared attractions will be open on a Sunday, particularly during the summer months and in the winter there's other attractions to enjoy.

There's so much to see and do on a Sunday, no matter what time of year you decide to visit. Here are a few ideas for you.
 
Get floral at Columbia Road Flower Market
Columbia Road Flower Market is a real feast for the senses. Originally, this weekly floral extravaganza was a Saturday trading fair. However, because of the rising requirements of the local Jewish community, it was eventually transferred to Sundays. This provided an opportunity for traders in Covent Garden and Spitalfields to sell any leftover stock from Saturday's trading.

Today, it's a bustling and vibrant destination on a Sunday. There's a host of great cafes and shops lining the road too, so you won't be short of somewhere to eat and find non-floral retail inspiration. Arrive early to beat the crowds or call by later to pick up a bargain or two.
 
Take a two-wheeled tour of the sights
There's less traffic on the city's roads on a Sunday, making it a perfect day to ride a bike. Cycling infrastructure across the city has improved considerably over recent years with more Londoners than ever before opting to travel by bike. If you're visiting for a day, it's easy to find a hire bike using apps such as Donkey Republic.

Alternatively, why not join a cycling tour for a guided two-wheel trip around the incredible sights of the capital city? The London Bicycle Tour Company run a range of tours, from a classic sightseeing tour, to a sunset tour that lets you see the city bathed in glorious golden hour light.
 
Take time out in Notting Hill
So cool it inspired a film, Notting Hill is a relaxed and upmarket neighbourhood. It's associated with mews streets and pastel-coloured houses, boutiques, independent retailers and lots of places to eat and drink. It's a great place to relax with a coffee and cake and to watch the world go by.
 
Explore Highgate Cemetery
If Paris has Pere Lachaise, then London has Highgate. Highgate Cemetery is one of the most atmospheric spots in London to explore and is the final resting place of countless authors, artists, actors, thinkers, and politicians.

Opened in 1839, its steep, wooded hillside site, Victorian tombs and tree covered walkways make it a peaceful spot to explore. It's a popular place to spot wildlife in the heart of the city. Nearby you'll find pubs, cafes, and restaurants for necessary refreshment.
 
Escape The Psychopath's Den!
Looking for a change of pace or something to get the heart racing?

For a perfectly fear-filled Sunday, then head to AIM Escape in E1 for a truly chilling escape room experience.

The Psychopath's Den is one of the most threatening and challenging escape room experiences in the UK. This devilish lair is home to a shadow-skulking psychopath who is watching your every move and the tension mounts as soon as the door slams shut behind you.

Using the latest technology and innovative techniques, the team at AIM Escape have created a chilling escape room experience that will challenge and perplex. It's also a thrilling option If you're looking for something to do in London on a Sunday evening.

The sense of evil is palpable and as you test your powers of deduction amid the gore-caked instruments of torture and blood-spattered walls, you'll know you're being watched.

Can you solve the insane puzzles and escape the clutches of the psychopath, or will you become yet another blood-drained victim?

The Psychopath's Den has a capacity of 5 people, and you can expect to spend 60 minutes attempting to escape. Participants need to be 16+ and charges for the game begin at £30 per person.
 
A Sunday to remember
The beauty of London is that there's something for everyone whatever day of the week you decide to visit. A Sunday in London can ne relaxing or it can be packed with adrenaline-fuelled excitement. The choice is yours.